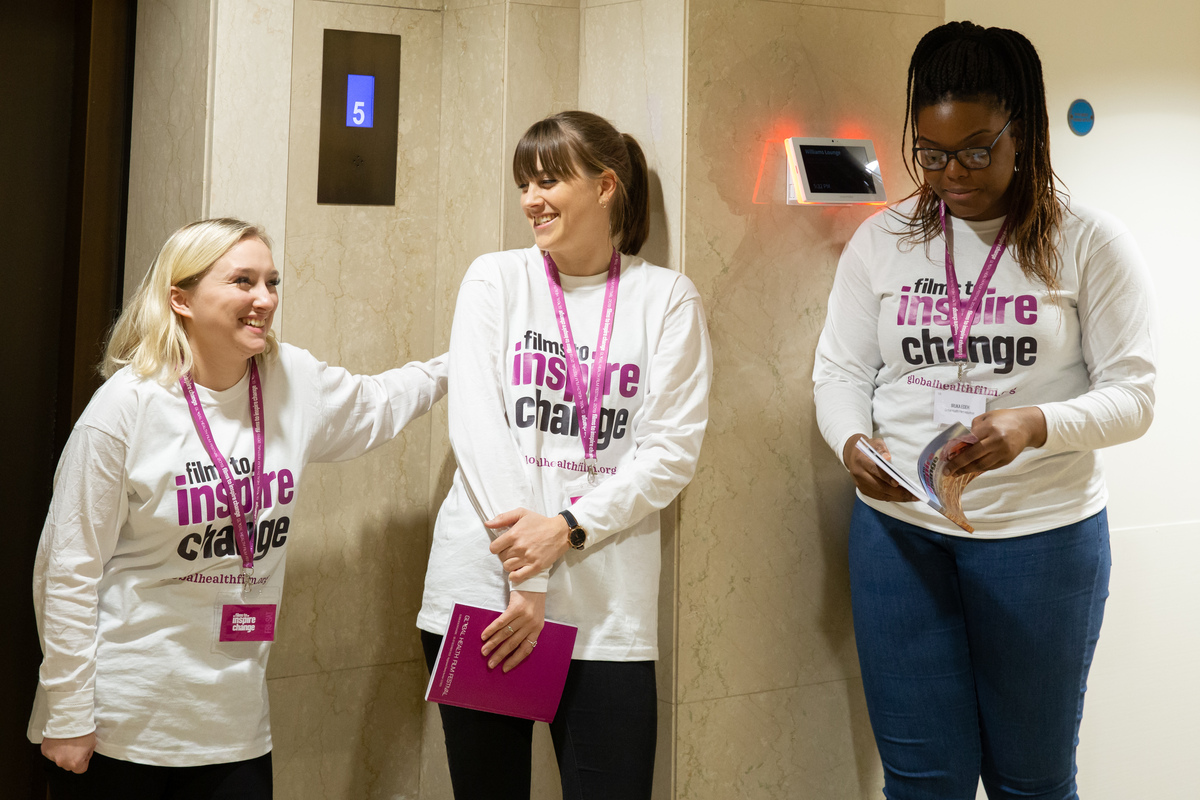 It's that time again!
With the eighth edition of the Global Health Film Festival just a few weeks' away, it's time to open recruitment for the volunteer team again!
We take huge pride in providing a truly enriching and enjoyable experience for everyone who joins us for any of our events, whether online or in-person.
Our Global Health Film volunteers are based all over the world and are central to the preparation and successful delivery of our increasingly high-profile and influential programme.
With a hugely increased level of activity this year, we are excited to grow this completely brilliant team and we are looking for people from a range of backgrounds (global health, comms, film) to help us deliver an excellent experience for all our Global Health Film members and delegates.
Could you be part of this amazing team?
The role
Subject to your interest areas and expertise, tasks could include:
researching additional reading and viewing material for participant resource packs
scoping out and developing niche audiences for each screening
assisting with communications and social media to extend our reach
working closely with film directors/distributors to ensure that each screening is as strategically impactful as possible
assisting the AV/producer team during the event; trouble-shooting, preparing speakers in the virtual or physical green room
amplifying online audience participation and discussion
talking up Global Health Film to guests and potential supporters

The time commitment
We expect the time commitment to be:
14 November - 04 December 2022: a minimum five hours a week as we gear up for the annual Global Health Film Festival
05 December 2022 onwards: a minimum three hours a month to help us deliver in-person and online events after this year's festival
For some tasks you will work alone or offline in collaboration with one or more team members, and then take part in very regular online updates and briefings with the wider team.
What's in it for you?
In return for your time, professional approach and enthusiasm, you will:
get free Global Health Film Festival membership for the lifetime of your volunteering commitment
have unique exposure to - and develop your expertise in - the delivery of high-profile, truly global events in the digital space
make a tangible individual and collective contribution to global health learning and 'edutainment' at a critical time in history
have the opportunity to network and build your own profile with an international group of global health professionals, influencers, and film-makers

Next steps
Recruitment is now open and closes at 23:59 BST Tuesday 08 November 2022.
We'll get back to you by 18:00 BST Thursday 10 November 2022 if you have been shortlisted and will arrange a short telephone interview.
We look forward to hearing from you!